Priscilla of the Baltics (WT)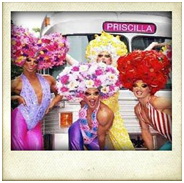 Transgender Priscilla (35) has a fatal form of cancer. When she finds out that her estranged father has passed and left her their shabby farm house near the Estonian-Latvian border, she decides that she must make amends with her past and travels home from London for the first time since she was a boy of 13.
Meanwhile, an unknowing Lars (56), long time lover and replacement father figure, head of a drag queen show with which Priscilla performed, decides to take her to a performance in St. Petersburg like she always dreamed.
As Priscilla begins to rediscover her childhood and learns more about her father, she is courted by an unlikely admirer from the village, Martin (30) who quietly but persistently offers his help in dealing with village life.
Before Lars and the drag queen show group arrive, Priscilla dies. The local coroner decides to give Priscilla a burial as a man. Martin is heartbroken over his loss and joins forces with Lars and the drag queens to steal the casket and bury Priscilla as she would have wanted – as a woman – and see her out with a final fabulous show.